The Hangover Part III
R
for pervasive language including sexual references, some violence and drug content, and brief graphic nudity


Bradley Cooper, Ed Helms

-

1 hr. 40 mins.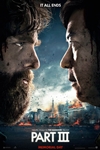 After the death of his father, Alan turns to the Wolfpack in his time of grief. This time, there's no wedding, no bachelor party - just one simple road trip. What could possibly go wrong?
Official Site
Trailer
---
Star Trek Into Darkness
PG-13
for intense sequences of sci-fi action and violence


Chris Pine, Zachary Quinto

-

2 hr. 3 mins.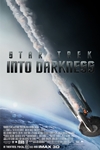 When the crew of the Enterprise is called back home, they find an unstoppable force of terror from within their own organization has detonated the fleet and everything it stands for, leaving our world in a state of crisis.
With a personal score to settle, Captain Kirk leads a manhunt to a war-zone world to capture a one man weapon of mass destruction.
As our heroes are propelled into an epic chess game of life and death, love will be challenged, friendships will be torn apart, and sacrifices must be made for the only family Kirk has left: his crew.
Official Site
Trailer
---
The Great Gatsby
PG-13
for some violent images, sexual content, smoking, partying and brief language


Leonardo DiCaprio, Tobey Maguire

-

2 hr. 23 mins.
The film follows Fitzgerald-like, would-be writer Nick Carraway as he leaves the Midwest and comes to New York City in the spring of 1922, an era of loosening morals, glittering jazz and bootleg kings. Chasing his own American Dream, Nick lands next door to a mysterious, party-giving millionaire, Jay Gatsby, and across the bay from his cousin, Daisy, and her philandering, blue-blooded husband, Tom Buchanan. It is thus that Nick is drawn into the captivating world of the super-rich, their illusions, loves and deceits. As Nick bears witness, within and without the world he inhabits, he pens a tale of impossible love, incorruptible dreams and high-octane tragedy, and holds a mirror to our own modern times and struggles.
Official Site
Trailer
---
Scatter My Ashes at Bergdorf's
PG-13
for a brief sexual reference


Joan Rivers, Ashley Olsen

-

1 hr. 34 mins.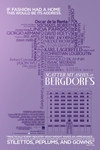 It's the most mythic of all American emporiums - and the scene of many an ultimate fashion fantasy. Now audiences get a rarified chance to peek behind the backroom doors and into the reality of the fascinating inner workings and fabulous untold stories from Bergdorf Goodman's iconic history.
The legend, the parties, the fashion idols, the windows, the women, the buyers and shoppers -- and most of all, the quintessentially American dreams of New York's high-fashion hot-spot - all come to life in an ode to a realm where creativity and commerce reign equally supreme. A look at not just the glamour but the passion behind the daily creation of this luxury mecca in a film as dynamic, lush and intimate as the store itself.
Official Site
Trailer
---
Mud
PG-13
for some violence, sexual references, language, thematic elements and smoking


Matthew McConaughey, Reese Witherspoon

-

2 hr. 10 mins.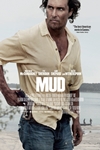 This film is an adventure about two boys, Ellis and his friend Neckbone, who find a man named Mud hiding out on an island in the Mississippi. Mud describes fantastic scenarios-he killed a man in Texas and vengeful bounty hunters are coming to get him. He says he is planning to meet and escape with the love of his life, Juniper, who is waiting for him in town. Skeptical but intrigued, Ellis and Neckbone agree to help him. It isn't long until Mud's visions come true and their small town is besieged by a beautiful girl with a line of bounty hunters in tow.
Official Site
Trailer
---