Kon-Tiki
PG-13
for a disturbing violent sequence


Pål Sverre Hagen , Odd-Magnus Williamson

-

1 hr. 58 mins.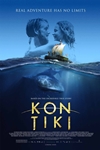 Norwegian explorer Thor Heyerdahl crossed the Pacific ocean in a balsa wood raft in 1947, together with five men, to prove that South Americans already back in pre-Columbian times could have crossed the sea and settle on Polynesian islands. After gathering financing for the trip with loans and donations, they set off on an epic 101 day-long journey across 8,000 kilometers, all while the world was watching. KON-TIKI tells about the origin of Heyerdahl's idea and the events surrounding the group's voyage.
Official Site
Trailer
---
Love Is All You Need
R
for brief sexuality, nudity and some language


Trine Dyrholm , Pierce Brosnan

-

1 hr. 40 mins.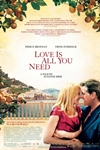 Philip, an Englishman living in Denmark, is a lonely, middle-aged widower and estranged single father. Ida is a Danish hairdresser, recuperating from a long bout of illness, who's just been left by her husband for a younger woman, Tilde. The fates of these two bruised souls are about to intertwine, as they embark for a trip to Italy to attend the wedding of Patrick and Astrid, Philip's son and Ida's daughter.
Official Site
Trailer
---
Now You See Me
PG-13
for language, some action and sexual content


Mark Ruffalo , Jesse Eisenberg

-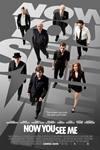 During their performances, the world's greatest illusionists known as "The Four Horsemen" pull off a series of daring heists against corrupt business leaders. The super-team of illusionists shower the stolen profits on their audiences while staying one step ahead of an elite FBI squad in a game of cat and mouse.
Official Site
Trailer
---
The Internship
PG-13
for sexuality, some crude humor, partying and language


Vince Vaughn , Owen Wilson

-
Billy and Nick are salesmen whose careers have been torpedoed by the digital world. Trying to prove they are not obsolete, they defy the odds by talking their way into a coveted internship at Google, along with a battalion of brilliant college students. But, gaining entrance to this utopia is only half the battle. Now they must compete with a group of the nation's most elite, tech-savvy geniuses to prove that necessity really is the mother of re-invention.
Official Site
Trailer
---
Much Ado About Nothing
PG-13
for some sexuality and brief drug use


Nathan Fillion , Clark Gregg

-

1 hr. 49 mins.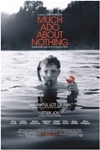 Leonato, the governor of Messina, is visited by his friend Don Pedro who is returning from a victorious campaign against his brother Don John. Accompanying Don Pedro are two of his officers: Benedick and Claudio. While in Messina, Claudio falls for Leonato's daughter Hero, while Benedick verbally spars with Beatrice, the governor's niece. The budding love between Claudio and Hero prompts Don Pedro to arrange with Leonato for a marriage.
In the days leading up to the ceremony, Don Pedro attempts to sport with Benedick and Beatrice in an effort to trick the two into falling in love. Meanwhile, the villainous Don John plots against the happy couple, using his own form of trickery to try to destroy the marriage before it begins.
Official Site
Trailer
---
Man of Steel
PG-13
for intense sequences of sci-fi violence, action and destruction, and for some language


Henry Cavill , Diane Lane

-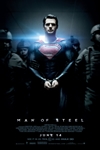 Clark Kent, a young reporter, roams the world covering news stories, but returns home to face his destiny - to become Superman.
Official Site
Trailer
---